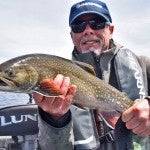 You know you have been somewhere special when all you think about is wanting to go back. It all started when Bob Izumi and family asked me to join them to produce a speckled trout show on Lake Nipigon. It is hard to believe that neither one of us had ever been there this incredible 6th Great Lake that is on the bucket list of so many anglers. More often than not they never get there. Home to the world record speckled trout, 40+ pound Lake Trout, monster Pike, and a variety of other species and absent of bass, musky. It is a long way from anywhere and locked in a time long ago. There are no charts, no water side lodges or cottages. In fact the MNR does not want the lake charted. It truly is Ontario's pristine experience. It is one of very few drive to destinations but requires at least a full day's journey for most who want to go. You have to take everything with you because you probably can't find it once there. Maybe we've all been there before.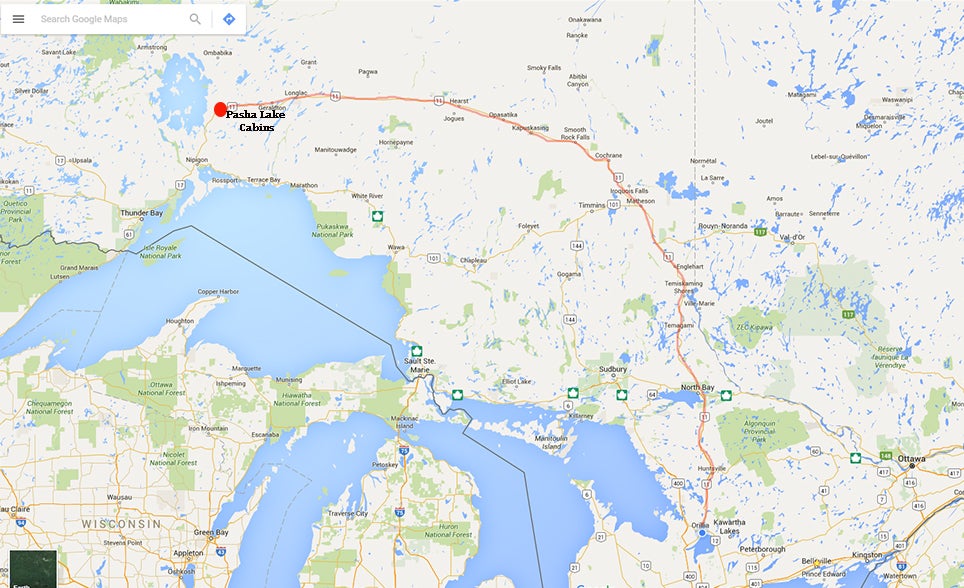 The trip of a lifetime started when Bob picked me up with his truck and Lund boat packed to the tarp. We were on our way by 2:00. There really isn't a lot of information about the lake. There are some stories and some videos but really nothing that can capture the experience. You can watch people catch fish and have a great time but nothing that would offer the sense of adventure and the enormity and remoteness of the fishery. No matter how much information you are given you are still going blind. After all that is part of the adventure.
From my home in Orillia it is a 12 hour drive without stopping. We passed the Muskokas, Huntsville, North Bay, Temagemi, Newliskeard and we were just getting started. On to Cochran where we stayed overnight, Kapuskasing, and Hurst. Once past Hurst we experienced a very small example of what happened in Fort McMurray as the road was closed due to a forest fire. We had a 2-hour delay as firefighters shut down the pipeline to let it cool. When we were moving again we drove through miles of smoldering chard forest. Barley an inconvenience compared to our neighbors out west.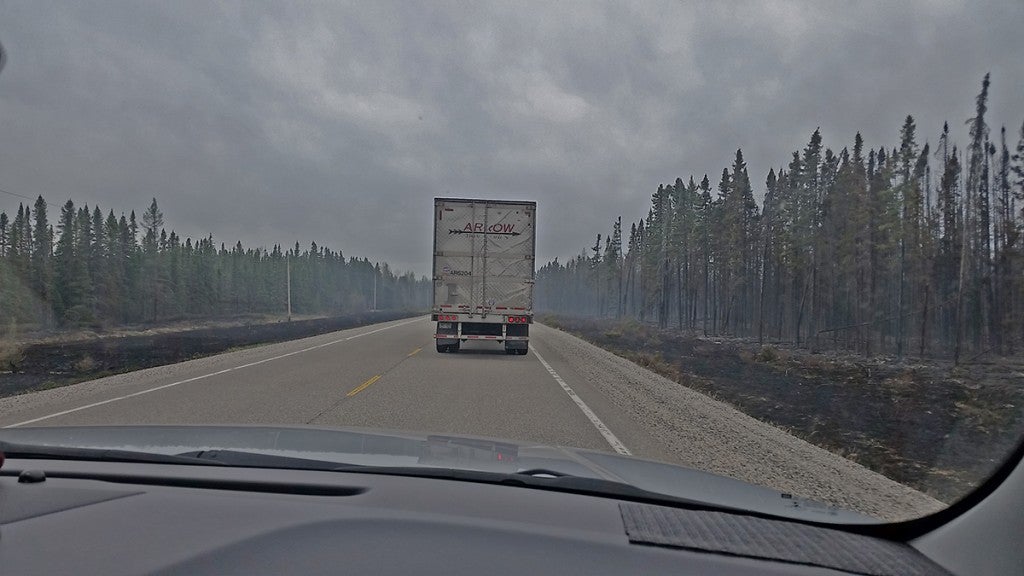 We were staying at Pasha Lake Cabins owned and operated by Chad and Michelle Thompson, an ex military and passionate outdoorsman transplanted from Wisconsin. Chad fell in love with the area many years ago, acquired the cabins and lodge and began to revitalize it for future generations. We arrived late and exhausted, as much from laughing of jokes and stories as travelling. Bob has an endless supply of stories that made the trip much shorter for me but maybe a little longer for wife Sandy and so Darren.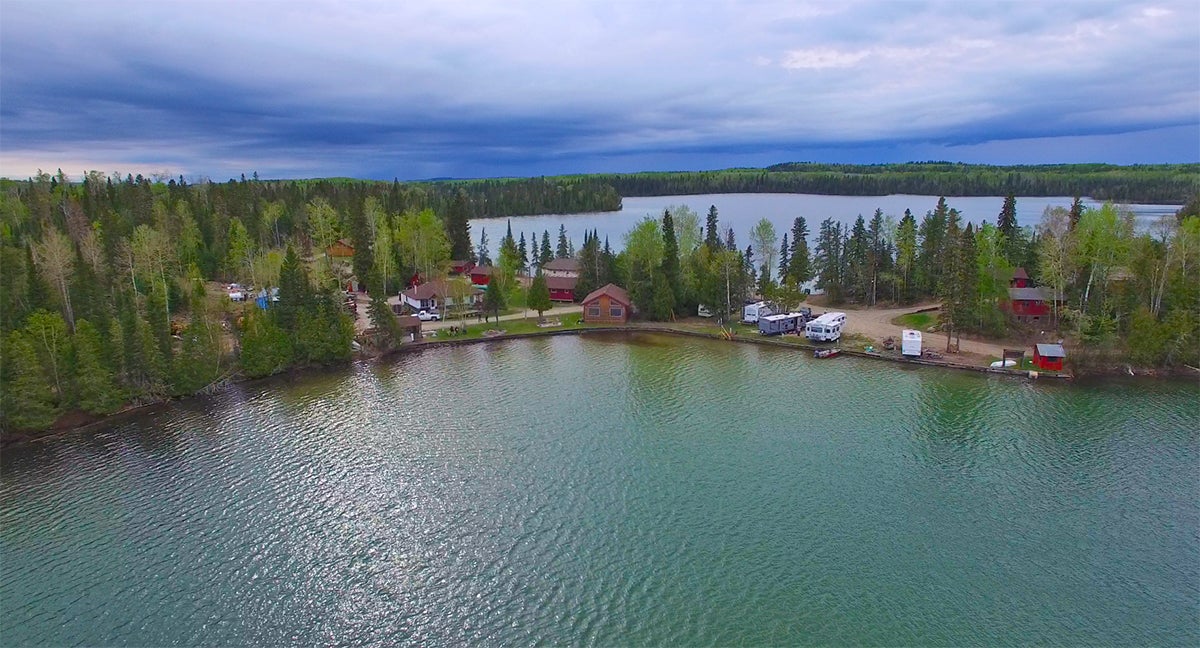 Pasha Lake Cabins has 11 house keeping cottages and an open games lodge room. They are open all year as of 2016. It is situated on Pasha Lake about 30 minutes from the Nipigon east shore boat ramp and harbor[/i][/size]
Day One – You can't get there from here
We had heard of some bays on the west side of the lake that had great speckled Trout fishing and some monster pike. The problem was that there are no roads or launches to where we wanted to go. This is when you get a sense of the size of the body of water. We had to calculate if we could get there on a single tank of fuel. It was over 50 miles by water one way. On day one we had the services of local guide Gus Buta. Gus has spent his whole life there as a guide and commercial fisherman. Oddly enough all of the commercial fishing for whitefish is done in the winter through the ice, 4 feet of ice at that. To say that Gus was knowledgeable would be gross understatement. He understood this fishery as much as anyone I have ever met with knowledge of any fishery.
Gus thought it best to take us for a warm up trip so we could understand the spring habitat and patterns of these world class speckled trout. To be honest I never really got pumped about catching speckled trout even if the average size was above 3 pounds and my personal best was about 14 inches. I would have spent the whole trip just looking for a 45+ inch pike or a 40 pound laker. We launched on the east side of the lake a Beardmore's High Hill Marina. This is one of the only sheltered harbors on the main lake. The people there were welcoming and helpful and of course friends with Gus.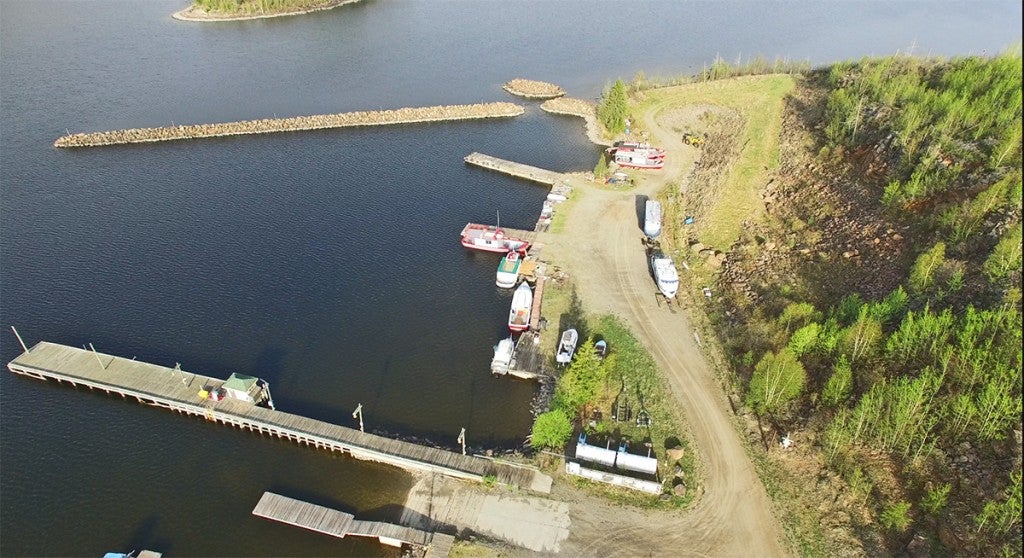 Beardmore High Hill Marina is a great facility with a protected harbor and concrete ramp. You can get gas during certain hours[/i][/size]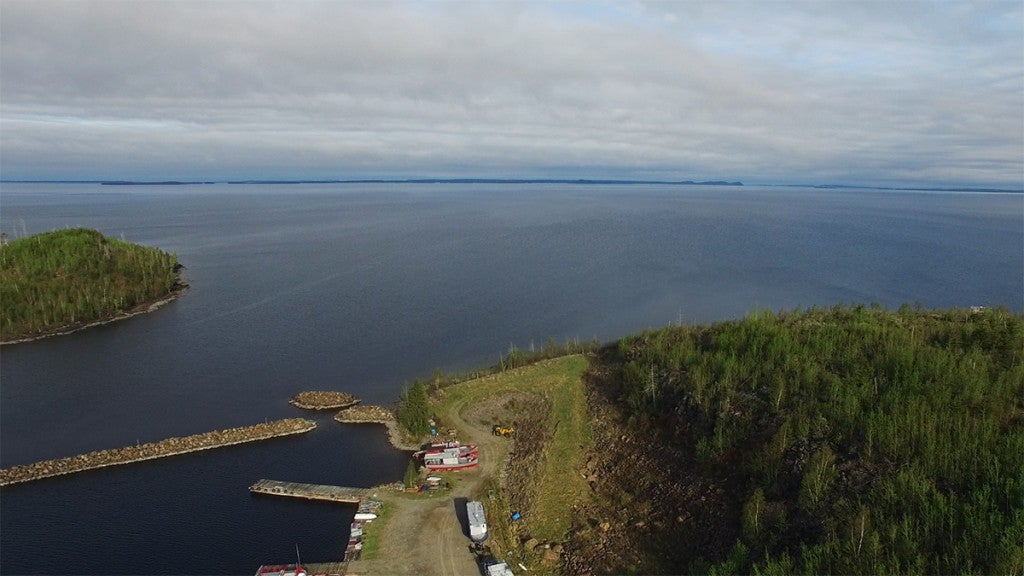 the open lake. It is very exposed and with any high wind you would need a very sea worthy boat to be safe. It would be a good idea to plan an alternate destination if there is high west winds the day you want to head out. Nipigon can have a nasty side to it
As we headed out on the flat lake I looked at the water temperature on the graph and it read 39F. The warmth of shore was quickly gone. Gus explained the water patterns where denser water met warming water. He said 2 degree changes were huge when it came to locating spring specks. About 30 minutes later we pulled up on the first spot littered with rock piles in a warming bay. I had the best rod I owned loaded with a 1/8 ounce jig head and a Powerbait Twitchtail Minnow. On my third cast the rod loaded and the frantic pumping stayed my barbless hook and I saw this magnificent colored fish. At that moment I got it. I got all the hype of these rare fish. I got the sense of the hunt that so many who hunt these rare fish experienced. Both the fish and I were hooked. The fish was 5 inches longer than my old personal best. It was quickly added to my 8 pound smallmouth, musky over 40 pounds, 10 ft shark and many other trophies from around the globe. At 63 I never thought I would feel this sense of pride as I released the fish. Even the Bald Eagle over head gave me the congrats. It wasn't the size of the fish, the color, the fight or even the rarity. It was that you had to be in a place like this to catch it. But this was just the start.
We spent a few hours in the area catching and releasing what Gus called warm up fish up to 20 inches. On 3 consecutive casts I broke my personal best 3 times. As always with the Izumi's we stopped in a sheltered bay to have lunch and as we pulled in the specks were scurrying out of the sand shallows. We had lunch then headed out for more specks. We actually only landed a dozen. The rest took advantage of the barbless hook. The regulations for the lake call for a single barbless hook. You can only harvest one speckled trout over 22 inches. I'm sure they taste incredible but I'll never know.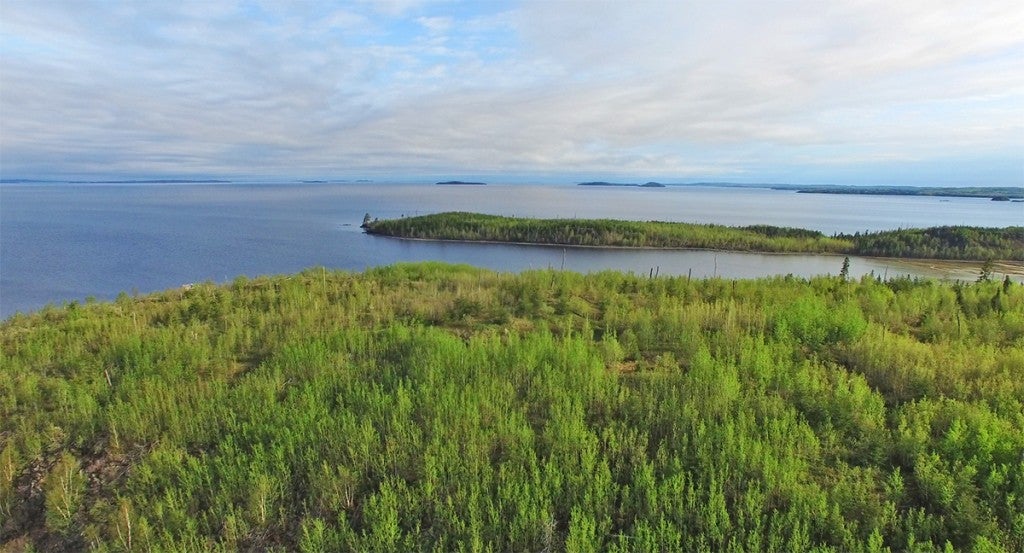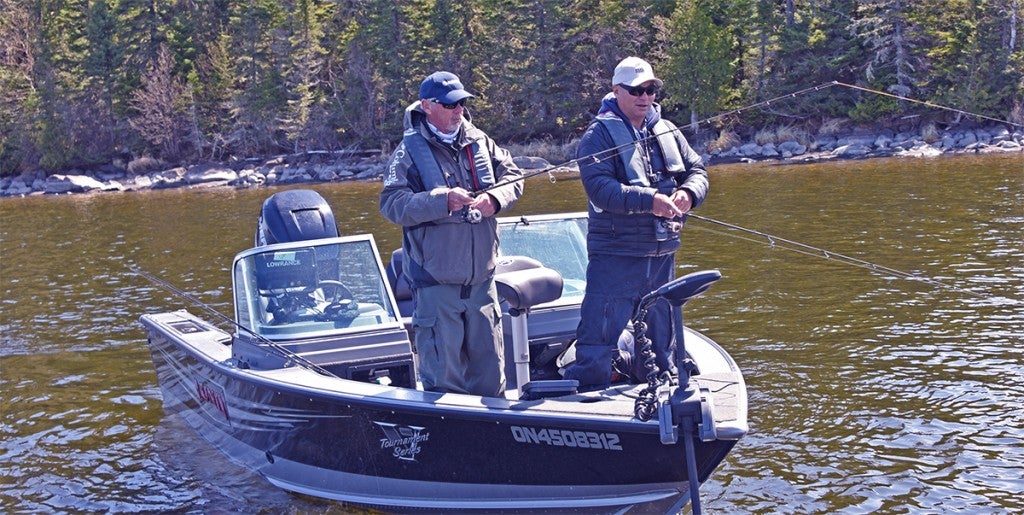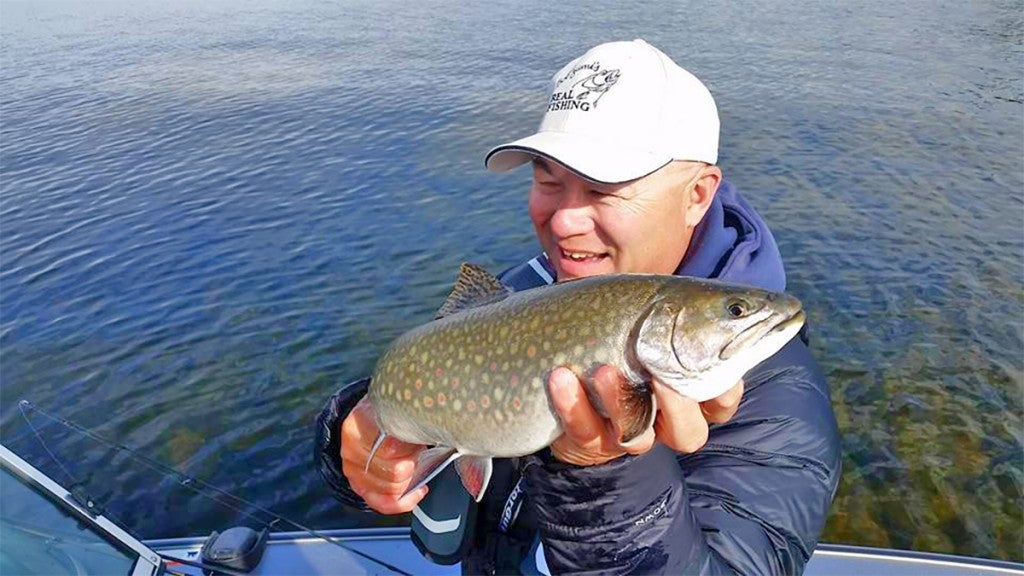 Finally I had to give in to my passion for pike and Gus took us to a bay in an island that normally held big pike. But the water was too low to get in and we were about 2 weeks too early for big girls. We manage to catch 20 or so fish up to 32 inches and kept one for dinner. We headed back to the launch. Normally Bob and I would be out until sun down but as we approached the longest day of the year would have to be out to 11:00 pm for dark that far north.
We made out way back to the cabin and there to meet us was Chad who informed us of an old fashion fish fry with all the other guests. The pike was fabulous! By the time it got dark I rolled in to bed and like I had been given an anesthetic and started to count backwards from 10 I was out like a light by the time I got to 3.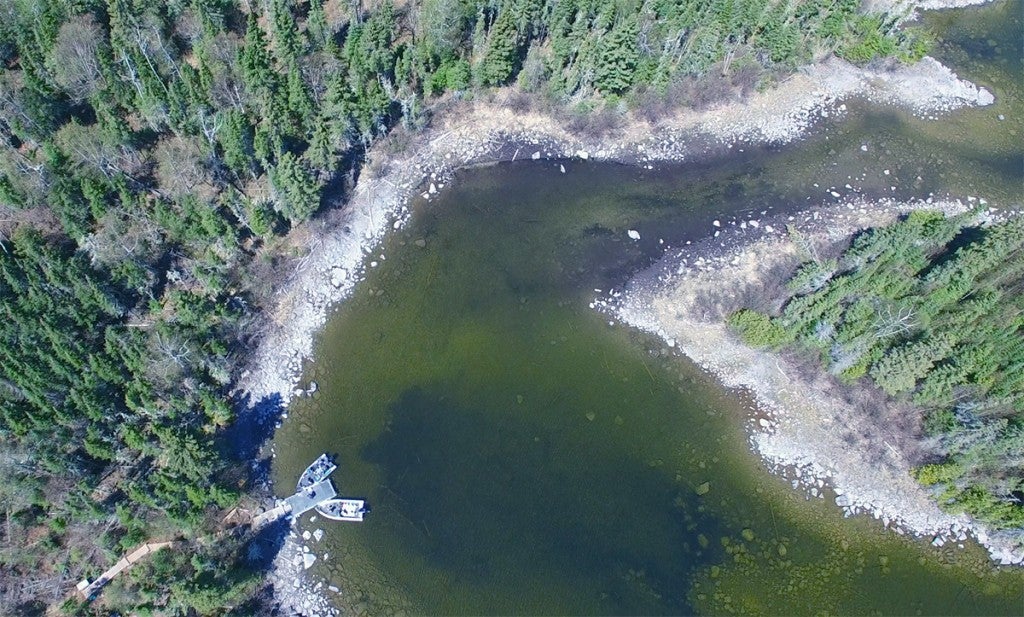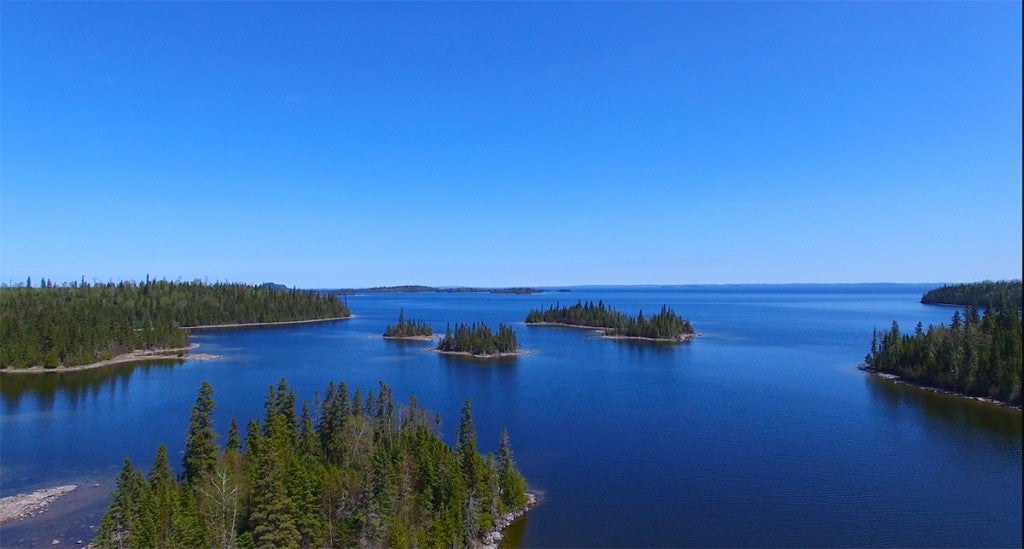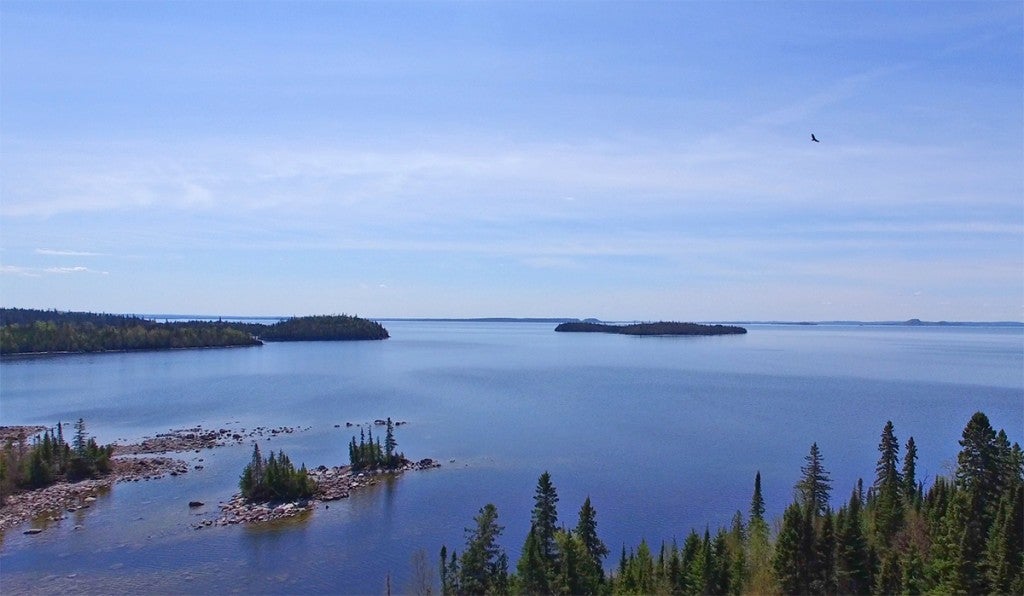 Day 2 – Somewhere No One has ever Been
In spite of being given tips and directions to many places, Bob like myself wanted to explore. We headed to a group of islands about 30 miles from the launch. Once again it was cold on the water as we boated over uncharted waters at depths ranging from 2 to 500 ft. deep. We were told that we should stay clear of some areas where shoals come to the surface and slow down when the water was less than 50 ft. deep. An hour later we arrived at an island the size of a small country and began to look for areas with similar patterns that we had been fishing. Bob caught a couple of fish up to 20 inches and as I got the drone ready for some aerial Darren took a few casts using a small Johnson Shutter spoon. We approached these perfect rock piles and Darrens rod loaded. Several minutes later he landed a personal best 21 inch fish. This was followed by a 21.5 and then a 22 inch. The new pattern was very long casts with these spoons. Six pound Nanofil on light rods was the only way to get the distance and with the barbless hook it was tense getting the fish all the way back to the boat.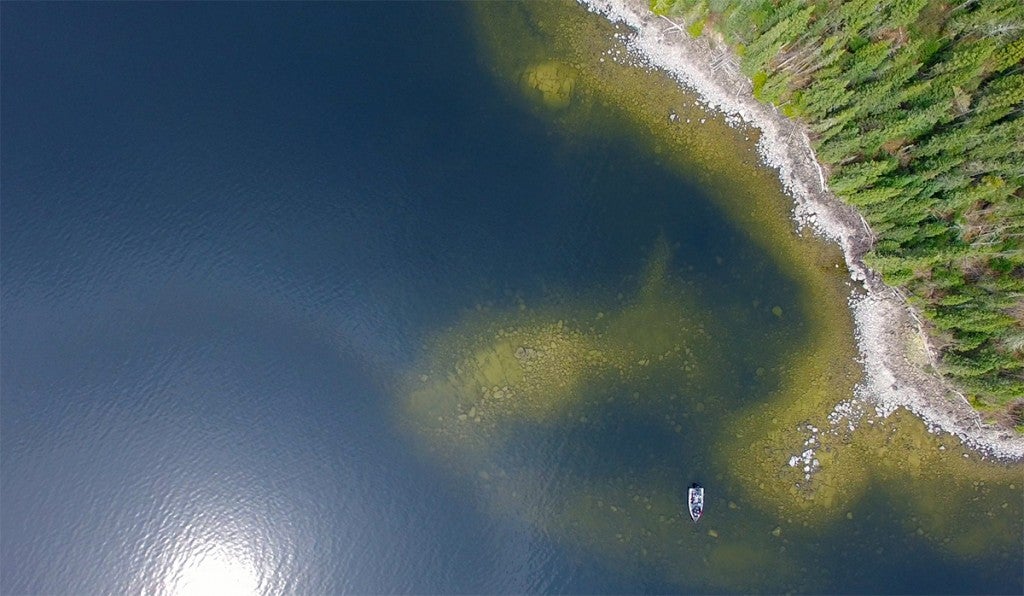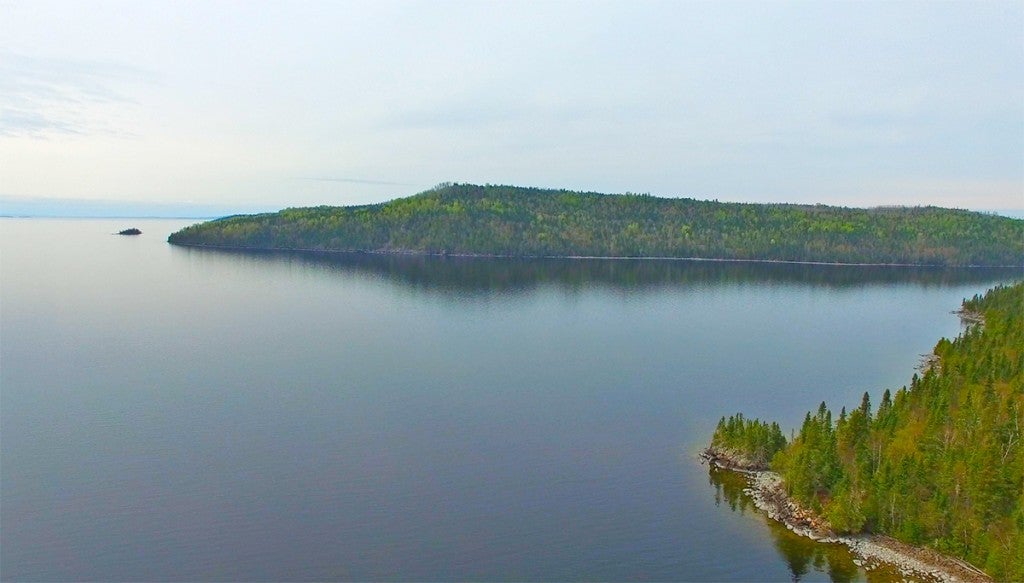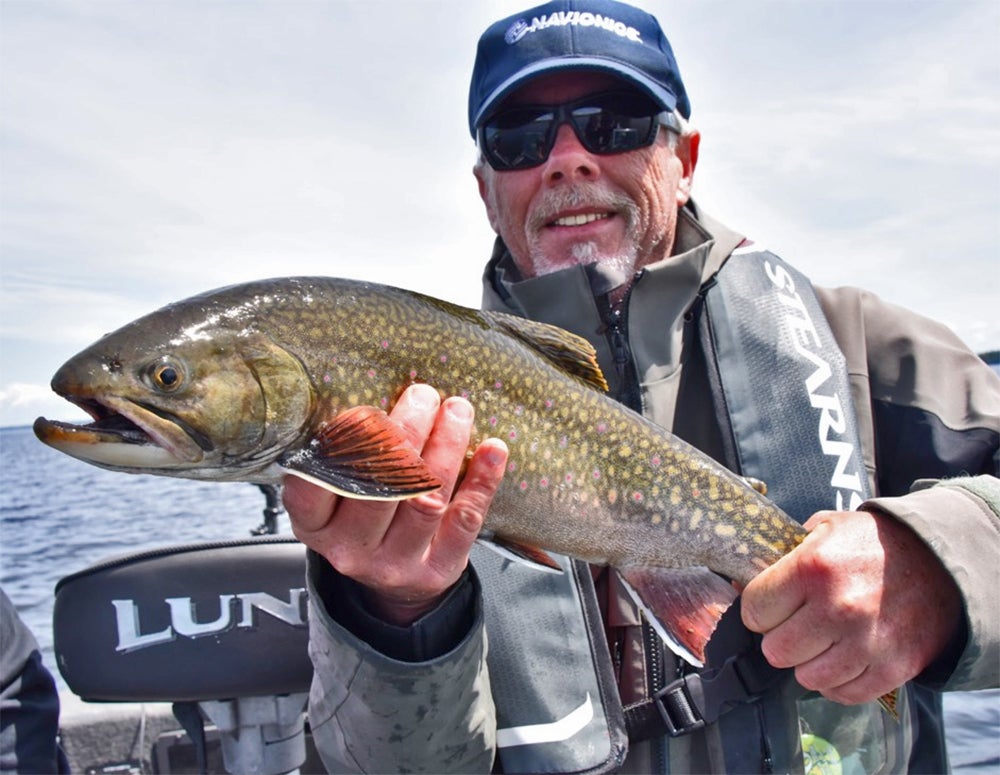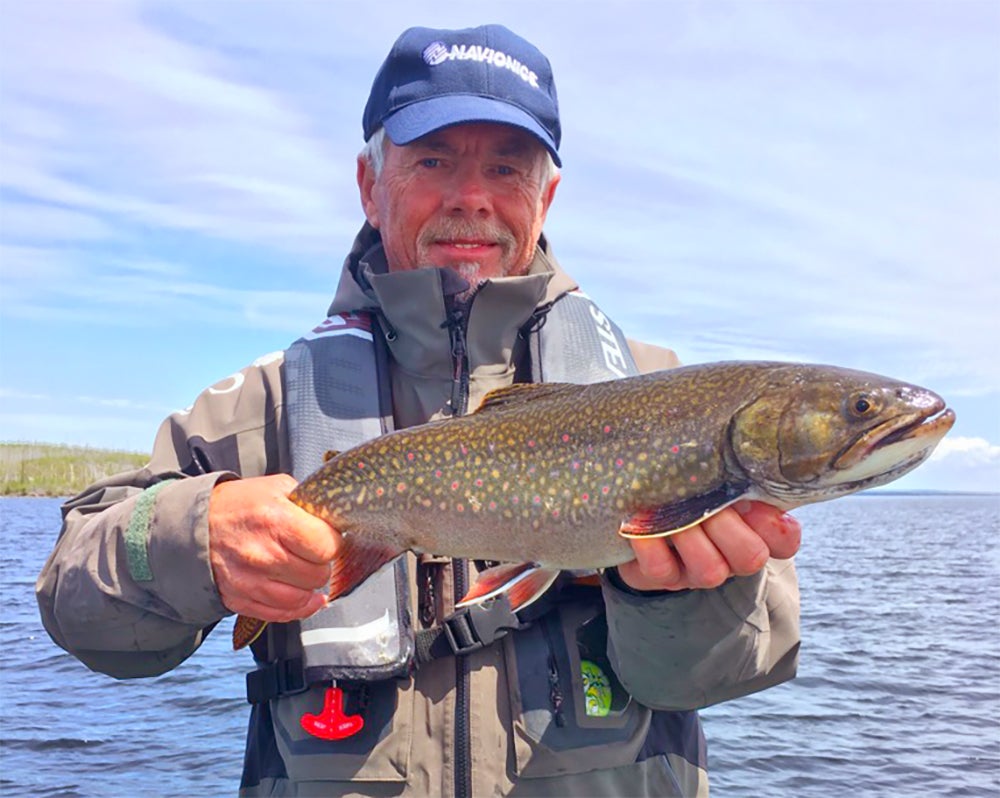 This is the high probability structure that seem to hold the most fish. Off shore rock piles were the best[/i][/size]
As the light breeze came to a stop the bite just shut down. These fish seemed to set up the same as smallmouth bass. They could be found on rock piles or points or around boulders the size of cars. But they would only feed or at least be aggressive when the wind blew. We were in an area that could produce 8+ pound specks. The world record of 14.5 pounds was caught in the Nipigon River over 100 years ago but Gus had seen fish to 12 pounds out in these islands during the spawn in late fall. Most speckled/ brook trout live 3 to 5 years but on Nipigon this unique strain of coaters live longer. They have aged fish to 8 years old. They are actually part of the Char family like lake trout and although most spawn on gravel in streams, Lake Nipigon specks will spawn in island bays with gravel. Their preferred temperatures are around 50f. The best near shore fishing is in mid June and this is typically when the big females are caught so we were just a little early.
There were some bays that held pike and one we fished produced fish after fish. All caught on Cutter Jerk Baits. Again there was a ton of fish but no monsters. So we moved back out to trout areas and as the wind started again so did the bite. You can fish miles of shoreline in what looks to be perfect habitat and you can pick up the odd fish. But if you came to any area that had rock piles or points you would get fish. Now that spoons were the ticket we could cover more water.
We fished until about 6:00 then made the long trip back. Now we were tasked with finding gas. Everything closes down somewhere between 4 and six depending on the day. The good news was that even though the gas station/ variety store was closed, there is one restaurant in Beardmore that has great burgers!
Back at camp word was out that Bob was there and he never avoids those that want to meet him and share stories. As he signed hats and shirts we heard stories of guests that had ventured into the 100 surrounding lakes that were teaming with pike and walleye. Some were drive to and some are walk and carry. Our venture was all about the big lake but for many it was the adventure of dragging tin boats, canoes, and kayaks into remote water and catching 30 to 50 walleye. If the big lake and specks wasn't enough reason to spend more time in the area all the endless day trips to un named and uncharted lakes certainly would leave you wanting more.
Once more as it got dark I was out like a light by the count of three.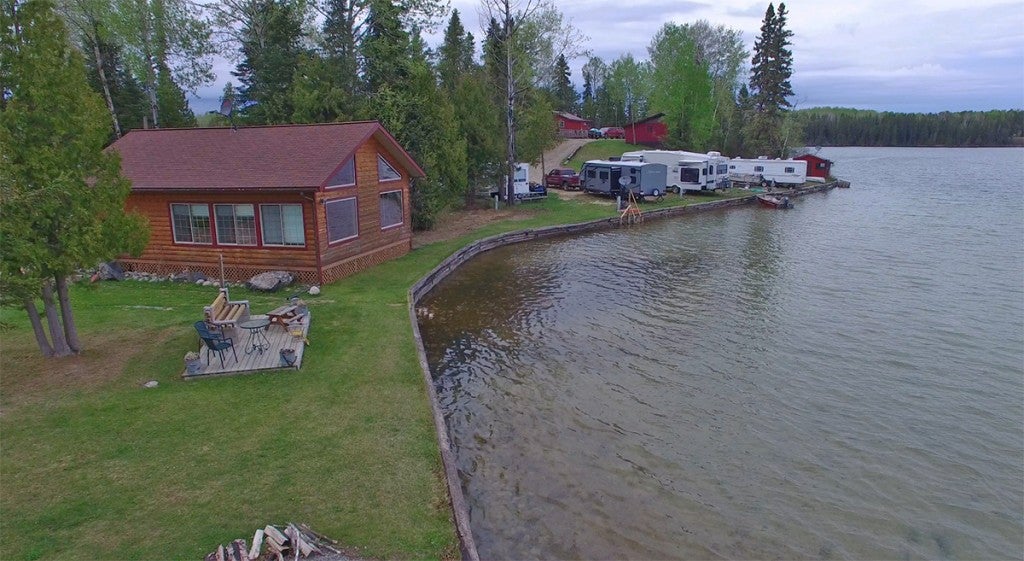 Day 3 – I don't Want to go Home
The last day was going to be about big pike. First we would fish for specks in a new area and then Gus gave us some bays to try for big toothers. We finally got on the water by 11:00 after finding gas and launching. We headed to another area but on the way we spotted some islands that looked good. We pulled into and area of shoals and rock piles and started the same program of Shutter spoons on a constant slow retrieve. Almost immediately I caught a small fish followed by several lost fish as the barbless hook was taking its toll. Finally on a long cast my rod loads and we boated a nice 22 inch fish. Not long after Bob hooks into a 6+ pound speck followed by another over 5. Then it was my turn again with another 22 inch fish. All this time we forgot about the show and giving Darren something to video. I'm sure that must be the hardest job trying to video while Bob and I are fighting for the best spots and the foot on the trolling motor. But you can't help yourself. You might be fishing somewhere that nobody has ever cast before and the fish are getting bigger and even though we have fished around the world for every species, this was special. You are fishing pristine waters in this incredible setting with eagles overhead and time is ticking away until you have to leave.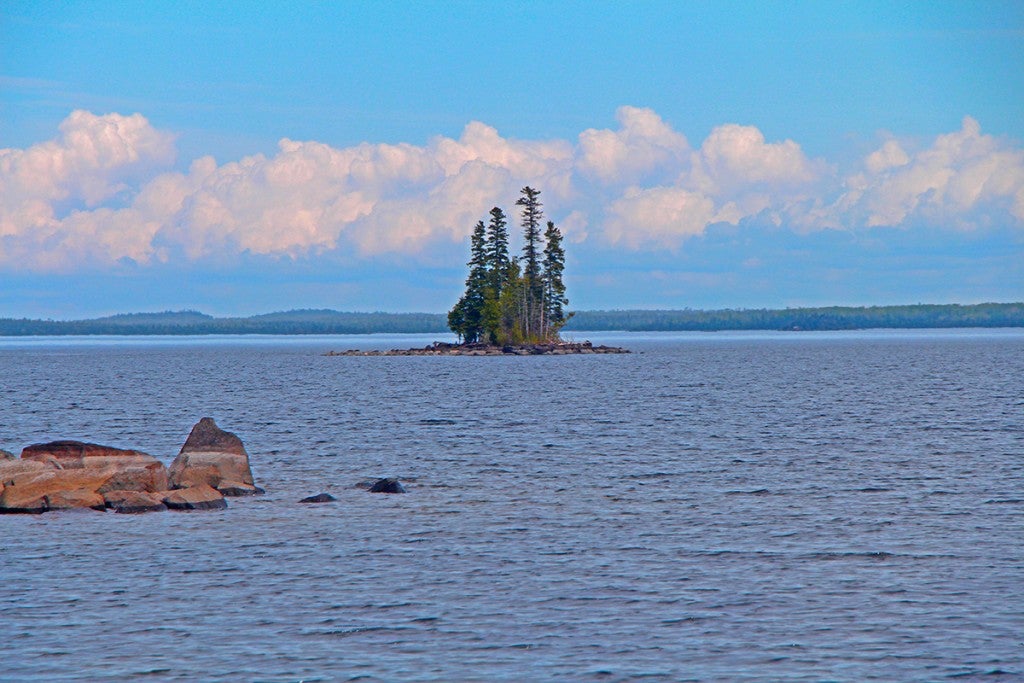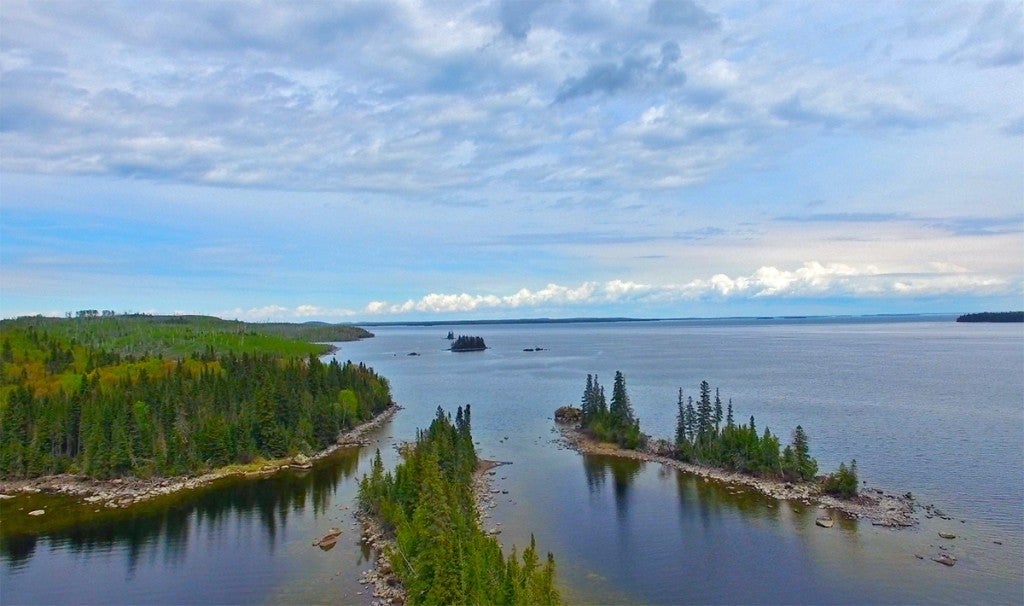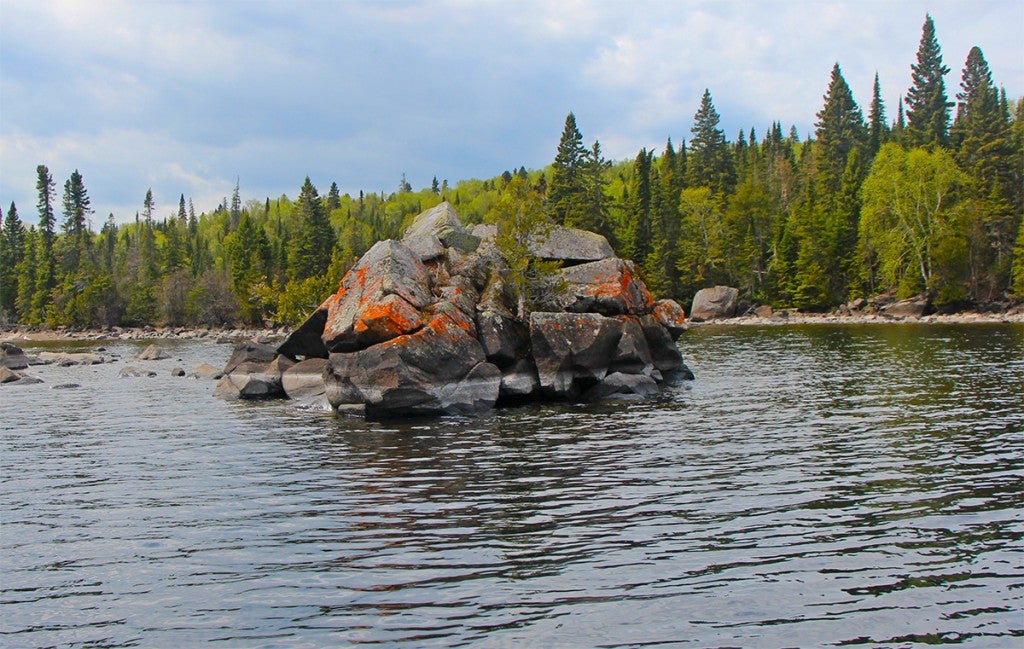 We fish another .001% of this magnificent fishery. The last hour we finally pulled into the bay that Gus told us to go for big pike. But when we got to the creek that ww were to head into, the water was just too low. I could just hear Gus saying " I wish they would leave the dam water levels alone". At one time there was no dams on the Nipigon River but now there is three and like many managed areas they lower the water coming into winter to avoid flooding. We spent the last hour catching numerous pike but again nothing very big but still a lot of fun catching something on every cast. By the time it was ready to go the wind was blowing pretty good and we thought we were about to experience one of the stories we had been told about the nasty side of Nipigon. But a trip through the lee side of islands and limited open water got us back in an hour. That is one of the great things about the area. When it blows there is always somewhere to fish if you stay away from the open lake. Buy the looks of some of the 100 ft cliffs that had been pounded for thousands of years it is just a reminder that a measure of respect should be given when planning any trip.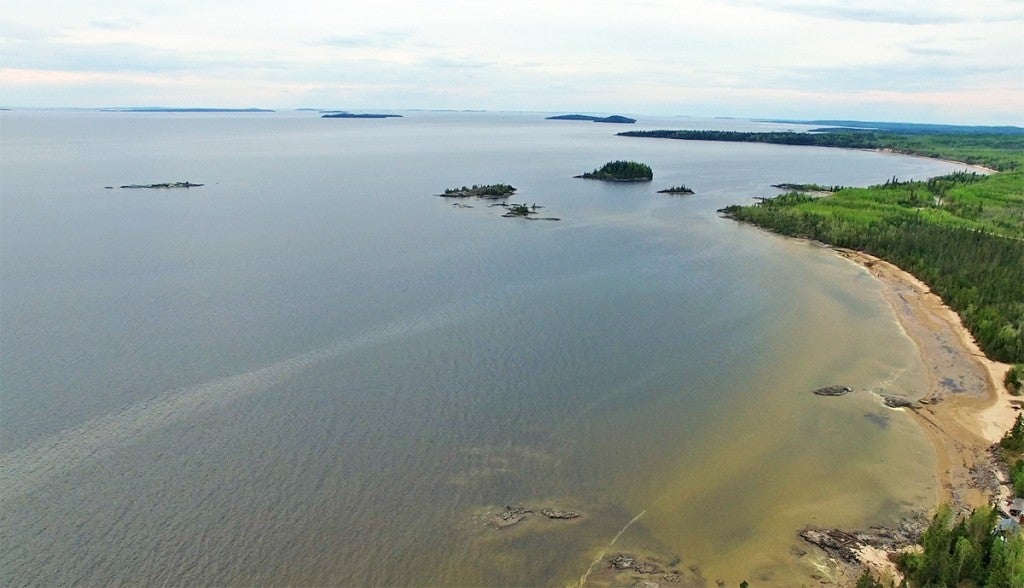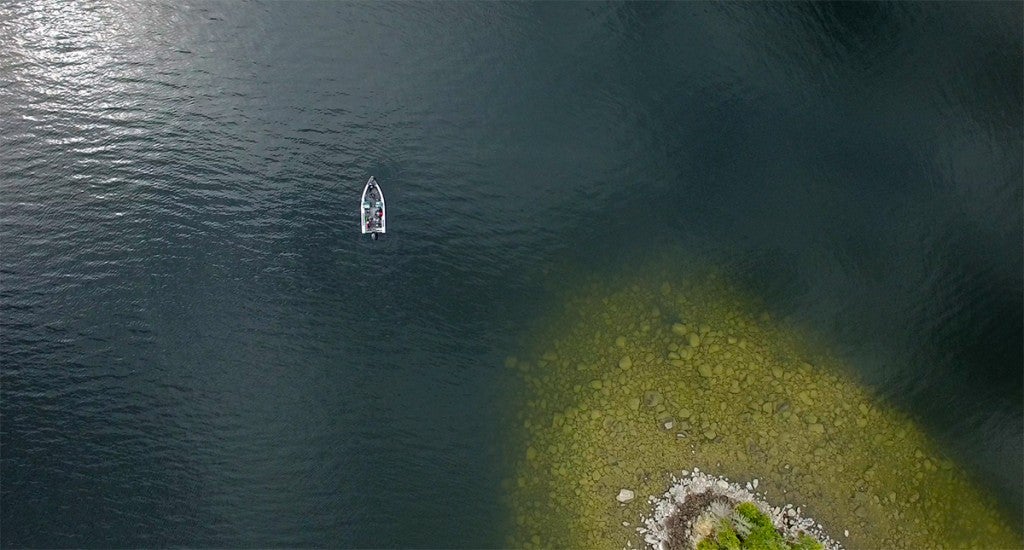 When we got back to the lodge Gus was there to meet us and ask about our day. He also told us about ice fishing for monster lakers and how you had to drill 3 ten inch holes because 40 pound fish are hard to turn into a hole 4 feet down. He told us stories of hooking into lake trout that he could not move from the bottom on any equipment. Now we are thinking this could be a great Sno Bear adventure!
The next morning it was time to pack up and start the long drive home. Like some other special places you are planning to come back before you even leave. There has been places I have considered moving to. Once in Hawaii, another time to Australia. Places closer to home like Kingston or the St. Lawrence River or even Niagara on the Lake. All have spectacular fisheries and if you live and breath fish they are all considered for a short while. I'm sure I could spend the balance of my life in the Nipigon region and never see 10% of what is available and never tire of these mystical trout. After 3 days on the lake we never saw another boat. There may have been anglers in the southern shore where it is more accessible to anglers from Thunder Bay or points closer than we came from but we didn't see any. For now home sweat home is where I am and I'm planning my next trip back for a 10-pound speck!
I can't wait to see the Real Fishing Show episodes. Thanks to the Izumi's for including me in this adventure. Special thanks to guide Gus Buta for his knowledge, experience, and stories. Also to Chad and family at Pasha Lake Cabins for making everything easy and comfortable.
See you this winter.
There is a park just north of High Hills Marina called Poplar LOdge Park. You can camp or bring an RV. It has electric, showers, and fabulous beaches. There is a launch ramp there but the water was too low for us to use.
We stayed at
Pasha Lake Cabins, Inc
Owned and operated by Chad and Michelle Thompson
Jellicoe, Ontario, Canada
P0T 1V0
Toll Free: Toll free 1-(866) 333-5943
Local: (807) 879-1188
Email: [email protected]
http://www.pashalake.com/fishing-lodge-highway11.htm
Our guide on day one and a wealth of information was
Gus Buta
Beardmore ON
807 252 8477
[email protected]